* WELCOME TO PAI * WELCOME TO PAI * WELCOME TO PAI * WELCOME TO PAI *
---
---

WELCOME TO PAI !
---
---
---
Pai, for nature lovers / How to get to Pai? / Population of Pai / Occupation in Pai / Climate in Pai / Tourist Attractions in Pai and around / Activities in Pai / Culture in Pai / Facilities in Pai
---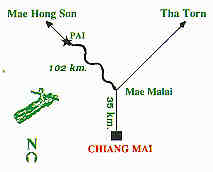 (Mae Hong Sorn Province, North Thailand)
Pai district is situated about halfway between Chiang Mai and Mae Hong Sorn, the misty town on the Burmese border. At about 600 meters above sea level, surrounded by high mountains. Pai offers one of the most fertile and beautiful nature in the North of Thailand, clean air and no pollution. People from many different tribes live here peacefully together and still maintain their traditional way of living.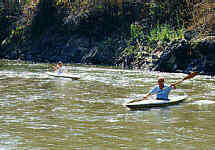 The serene Pai river runs from the northern border with Burma through Pai town and along virgin jungle to Mae Hong Sorn. Hardy adventurers use this route for exciting rafting.
Start from the main tourist hub: From Chiang Mai on route 1095 towards Pai it is 132 kilometer. The bus from Chiang Mai Arcade bus station takes about 4 hours.
Buses from Chiang Mai to Pai:
7.00, 8.30, 10.30, 12.30, 16.00
Buses from Pai to Chiang Mai:
7.00, 8.30, 11.00, 12.30, 16.30
From Mae Hong Sorn town: Along this route pine trees and wild vegetation line both sides of the gently rising road passing nice scenery along the way. In Mae Hong Sorn are motorbikes and jeep available for rent.
Mainly Thai Yai (from Burmas Shane state) and hill tribes (Lisu, Lahu, Karen). In town mainly Thai, Thai-Chinese, some Thai-Muslim and some foreign residents.
Agriculture - mainly garlic, rice, fruits, lychee, cotton
Cool season: 12º C - 28º C from November - March
Hot season: 24º C - 35º C from April - June
Rainy season: 24º C - 32º C from July - September
Old temples:
Wat Nam Hu

Wat Phra That Mae Yen (mountain temple)

Wat Klang and Wat Luang (temples where Thai Yai / Burmese architecture is preserved)
Wonders of nature:
Ta Pai hot spring

Pong Duad hot spring

Mo Paeng waterfall (near Lahu village)

Mae Yen waterfall

Lod caves (these are beautiful and ancient caves on a large area where graves of prehistoric civilization was found. The area is a national park with lots of different birds.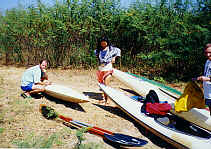 padelling rubber boat along Pai river
adventure rafting and canoe along Pai river
explore caves or go mountain trekking
elephant riding through jungle
mountain bike cycling or motorbike-trekking (Nop's bike shop offers 2 - 3 - 4 days motorbike trekking with 250 ccm trail bikes around northern part of Mae Hong Sorn province. Guide available or on your own. Also available Honda Dream, good maps and other information.)
jungle-treks: Pai is well known as a base camp for trekks to hill tribes. Walk through green jungle and spend the night in a hill tribe village to experience their traditional way of life. In Pai there are local or hill tribe guides and porters available.
Herbal Sauna and Thai Traditional Massage as well as herbal medicine or Burmese Massage
Reading (Nop's book shop)
Thai cooking course at Peter's and Wandee's Hut in Mae Yen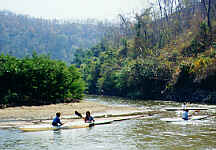 Both local Thais and hilltribes still keep their traditions alive by their traditional dressing, house style, food and entertainment.
Here are some of the highlight festivals:
Loy Kratong (full moon night in November)
fireworks competition at Wat Luang (beginning of November)
Kin Wo (hill tribes New Year, February)
Thai New Year (13 - 15 April)
bamboo throwing festival (to ask for rain, May)
Pai is a small town but can offer enough facilities such as a post office, hospital, long distance call and fax service. Accommodations and food are good and cheap. Most of the guest houses are in town and the scenic most beautiful ones are along the river. Local restaurants and western style restaurants are available (e. g. Chez Swan Restaurant, Thai Yai Restaurant) with home made brown bread.
---

Index:
---
Thank you for visiting Thailand online !
Please come back again!
---
Sight seeing and attractions in other parts of Chiang Mai province:
Sight seeing and attractions in Mae Hong Son (coming soon!)
Sight seeing and attractions in Mae Hong Son and around (coming soon!)
---
---

Please send mail to Thailand online !

Do you have questions about Thailand? Do you need some special information about southeast Asia?

Please contact us!
---
---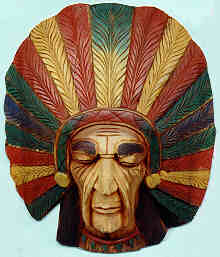 Northern Thailand Export Services, Product Research and Design:

---
Other Thailine domains: thailine.com / thailine.net / thailine.org / thailine.ch / thailine.de / chiangsaen.co.th / chiangsaen.biz / chiangsaen.info / kaewdam.com / manirat.com / thannadorn.com / akha.com / samui.info / ratanaporn.com
---
Diese Seite wurde am 10. Januar 1997 gestaltet und zuletzt am 30. Januar 2004 aktualisiert.
This page was created on January 10, 1997 and last updated on January 30, 2004.
หน้านี้ได้ทำวันที่ ๑๑ เดือน มกราคม พ.ศ. ๒๕๔0 และได้เปลื่ยนแปลงใหม่ในวันที่ ๓๐ เดือน มกราคม พ.ศ. ๒๕๔0

copyright 1996-2004 © thailand publications switzerland