| | | |
| --- | --- | --- |
| | PRESENTS: | |
WELCOME TO CENTRAL PATTAYA
WILLKOMMEN IN ZENTRAL-PATTAYA
PLEASE CHOOSE YOUR LANGUAGE:
---
---
Central Pattaya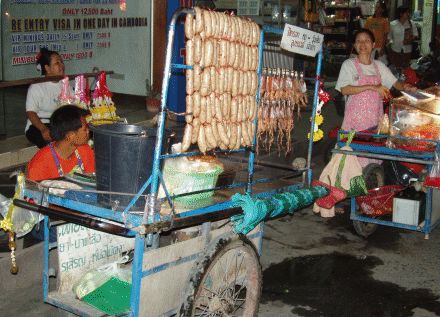 "Fastfood" in Centralpattaya (Soi Postoffice) ...

Demnächst mehr Fotos und Informationen zu Zentralpattaya ...


Weitere Themen zu Zentralpattaya:
Central Pattaya Police Station (Polizeistation)

Central Pattaya Beach (Strand)

Central Pattaya Night Life (Nachtleben)
Mini Bus Central Pattaya (Sammeltaxis)
Soi Post Office
Motorbikes for rent
Central Pattaya Second Road
Central Pattaya Beach Road
Stop child sex tourism!
Pattaya Bus Station (Bus Terminal Pattaya-Bangkok)
Demnächst mehr Informationen und Bilder zu Pattaya City ...
---
---
Natürlich gibt es in Pattaya immer noch die meisten Sex-Clubs, Massage-Salons und Table-Dance-Bars weltweit. Doch lange vorbei sind die Zeiten des schmuddeligen Sex-Ekeltourismus: Angesagt sind gute Party-Laune, Rave und heiße Beats, Edel-Shopping oder Rolex-Blender und Seafood-Küche vom Feinsten. Außerdem noch: Feinsandiger Strand von Jomtien und Top-Hotels mit internationalem Luxus-Standard. Lange Party-Nächte mit Live-Bands und Top-DJs.
SunLineDirect: Flug- und Lastminute-Hits weltweit:
- Reise-Datenbank mit ueber 1,8 Millionen Angeboten taeglich aktuell.
- Flugreisen in die Sonne: Das Online-Reisebuero.
- LastMinute- und Flug-Hits weltweit.
- Thailand-Specials: Ab 399 Euro nach Bangkok!

---
Pattaya's Ortsteile: Pattaya Naklua / Central Pattaya / South Pattaya / Pattaya Jomtien
---
---
---

Schicken Sie eine kurze Mitteilung oder einen Brief an Thailand online! Wir freuen uns, wenn wir eine Email erhalten.
Herzlichen Dank für Ihren Besuch bei Thailand online! Vergessen Sie nicht, wieder bei Thailand online hereinzuschauen (praktischerweise legen Sie ein für Thailand online in Ihrem Browser an).
Please send mail to Thailand online! We are waiting for your message or comment.
Thank you for visiting Thailand online! Come back again and put a to Thailand online.
---
---
Thailand online (German) / Thailand online (English) / Thailand online (Thai)
Nord-Thailand / Chiang Mai / Pai / Chiang Rai / Chiang Saen / Chiang Khong / Phayao / Maesai
Northern Thailand / Chiang Mai / Pai / Chiang Rai / Chiang Saen / Phayao
Süd-Thailand / Southern Thailand / Bangkok / Ko Samui / Phuket
Bergvölker / Bücher / Reisebüros / Klima Chiangmai / Festtage / Pattaya Hotels
---
---
---
Other Thailine domains: thailine.com / thailine.net / thailine.org / thailine.ch / thailine.de / thai.shop / thai.club / chiangsaen.co.th / chiangsaen.biz / chiangsaen.info / chiangsaen.com / chiangrai.travel / kaewdam.com / manirat.com / moracon.de / thannadorn.com / akha.com / samui.info / ratanaporn.com
---
Diese Seite wurde am 6. Oktober 1997 gestaltet und zuletzt am 15. Juli 2005 aktualisiert.
This page was created on October 15, 1997 and last updated on July 15, 2005.
(This page is best viewed with screen resolution 600 x 800 dpi and Netscape Navigator 7.x)
copyright 1996 - 2005 © thailand publications switzerland