Guido + Ladda
Northern Thailand
Ban San Luang - Maechan - Chiangrai
Contact: Tel./Fax. +66 / (53) 65 35 03
Handy 099 500 017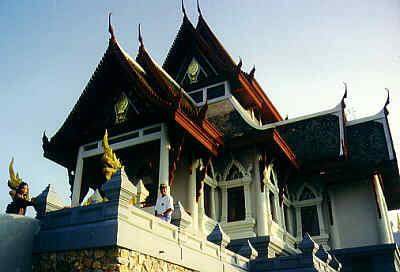 ---
SCENIC NORTHERN THAILAND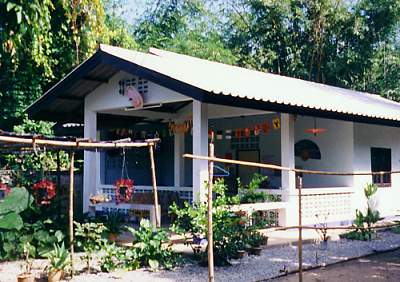 Photo: Guido + Ladda Guesthouse in the beautiful garden.
The best way to appreciate the natural charms of Northern Thailand is by trekking through the jungels with our experienced staff. As a base for exploring Chiangrai-City, our daily sightseeing tours with well trained and safe drivers by Jeep or Mini-Bus can satisfy your needs. Come and visit us, and we will make you feel happy!
Tours arranged:
Special photographic tours to the hilltribes in the Golden Triangle: Karen, Akha, Lisu, Lahu, Yao, Hmong and the exotic Karen Longneck
Adventure treks by motorbike.
Individual special day tours to suit your taste.
Adventure treks by motorbike: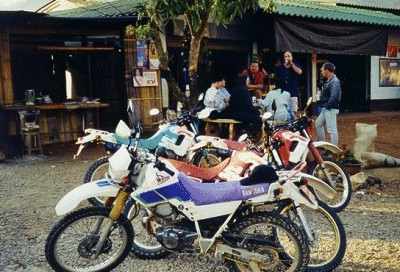 Photo: Adventurous occupation ...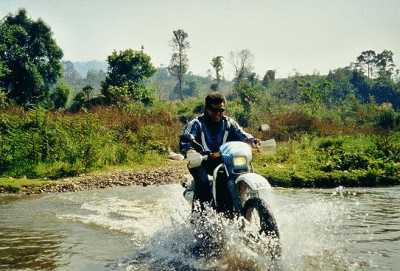 Photo: Wonderful with this heat ...
Surrounded by ricefields, near Golden Triangle (30 min. ) or Chiangrai (45 min. ) very nice and quiet Iocation: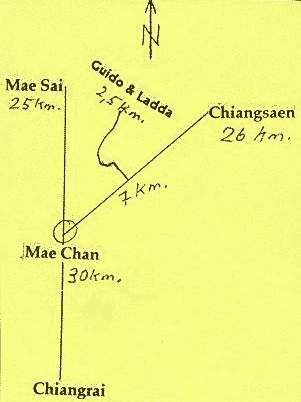 Special price!

Photo: After this salient tree approx. 100 m up to the advertising board of Guido + Ladda Guesthouse.
---

Click Here to Visit the Sponsor of Thailand online

Please use our mail box and write to Guido + Ladda Guesthouse !

Short, spontaneous comments or also detailed letters are at any time welcome with us!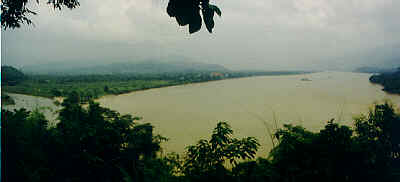 Sicht auf das Goldene Dreieck.
View on the golden triangle.

---
Zu den Seiten der Bergvölker von Nord-Thailand:

---
Zu den Seiten über die thailändische Sprache:

---
Zu den Seiten in thailändischer Sprache:

---

---
Diese Seite wurde am 26. November 1997 gestaltet und zuletzt am 24. März 2003 aktualisiert.
This page was created on Novembre 26, 1997 and last updated on March 24, 2003.
This page is best viewed with screen resolution 600 x 800 dpi
copyright (text & photos) 1997 - 2003 © by GUIDO + LADDA and thailand publications switzerland