SUMALEE'S
Handicraft Center Chiang Rai City
Exporter of Solid Teak / Rosewood Furniture, Woodcarving, Handicrafts, Silk and Hemp.
879 / 7-8 Phaholyothin Road, Chiang Rai City 57000
Post: P. O. Box 130, Chiang Rai 57000, Thailand
Tel. 0066 53 752 273, Fax 0066 53 752 274
Email: lotsum@loxinfo.co.th
Email: sumalee@thailine.com
---
---
Export Worldwide with Shipping from Door to Door.
Furniture Made at your Design. Wohlesale and Factory Pricelist Export Catalogue's.
German Management with more as 20 Years Thailand Experience!
---
Rosewood Desk, Louis Design (S06)

English:

EXPORT WORLDWIDE
SHIPPING FROM DOOR TO DOOR
FURNITURE MADE AT YOUR DESIGN
EXPORT CATALOGUE / PRICELIST
WHOLESALE PRICELIST
BRANCH IN GERMANY
GERMAN MANAGEMENT WITH MORE AS
20 JEARS THAILAND EXPERIENCE

To represent our merchandise in different countries we are actively looking for agents and / or importers with or without investment capital.

Teakwood Living Room Set (S17)

Rosewood Half Moon Table Set, Carred Birth / Flower Design (S03)

Deutsch:

Weltweiter Export
Direcktanlieferung in 66 Städte
Haus zu Hauslieferung über unseren Partner in Saarbrücken, mit Zahlung bei Lieferung / Abholung
Möbelherstellung nach Vorlagen
Export Kataloge / Preislisten, Grosshandels Preislisten
Deutscher Manager mit 20 Jahren Thailand Erfahrung.

Achtung: Für den Vertrieb unserer Waren suchen wir in verschiedenen Ländern Vertreter, Generalvertreter und Importeure mit und ohne Eigenkapital. Bitte wenden Sie sich an unseren Manager Mr. L. M. Mielke.

Rosewood French Cabinet Carved (S05)

Teakwood Bar. Piture Bar open. Diff. carved. (S23)

France:

Pour presenter notre marchandise international nous cherchons des agents et / ou des importeurs, avec ou sans capital d'investiment.

Spanish:

Por representar nuestro meublos in payses differentes, hallamos ajentes y / o importadores con o sin capital

Rosewood Living Room Set. Full Mother of Pearl inlay (RC003)

Italian:

Para il commerzio internazionale voglio agentes, importaziones

Click here to get more photos from original old style furniture!

Flower Stand (S24)
---
---
We are Produce Furniture in Quality to your Modest Desire with our 100% Rose or Teakwood Material.
We make Furniture with our own Traditional Hand Made Method which helps enchant the beauty and strenght of the Furniture. We also inlay MOTHER OF PEARL to your Furniture for dramatic looks.
Our Products range from Cabinets, Desks to Dining Sets and many more in all differents Designs, Styles and patterns. Most of our Furniture is 90% Hand Made. So it is very unique value and quality. We mostly export our Products to Foreign Countries.
Whenever you like to buy Wooden Furniture, think of us and you will get buy in Town.
We produce the Rosewood Furniture in plain, carved or with Mother of Pearl inlay and in five diff. colours.
The carving of Teakwood have many diff. Design's.
All this Furniture you can order in elephant, thaivillage, dragoon, flower, bird or rama design.
Please select your design and look the diff. carvings on our picture's.
---
Furniture Price Information Picture No. S02
Solid Rosewood Dining Room Set, carved:
1 Oval Table w. 2 Leaves 44+96+30 H
2 Armchairs 19+21+40 H
6 Normal Chairs 17+18+40 H.
Furniture Price US-Dollar 2700.-
Shipping Cost door to door USA about US-Dollar 800.-
Total US-Dollar 3500.-
Möbel Preisbeispiel Abbildung Nr. S02
Massiv Rosenholz Esszimmer Set, geschnitzt:
1 ovaler Tisch mit 2 Mittelteilen zum Herausnehmen, zusammenschiebbar. 44+96+30 H
2 Armstühle 19+21+40 H
6 Normale Stühle 17+18+40 H.
Möbel-Preis US-Dollar 2700.-
Transportkosten bis zu Ihrer Haustüre US-Dollar 800.-
Total US-Dollar (ohne MWST) 3500.-
Teakwood Picture No. TC004
Rocking Chair including shipping: US-Dollar 340.-
Teakholz Schaukelstuhl Abbildung Nr. TC004
Einschliesslich Transport bis zu Ihrem Wohnhort: US-Dollar 340.-
---
Our's another Rosewood Furniture
Our's Solid Teakwood ROOF and Teakwood Furniture
100 % natural Roof furniture for terrace and garden. No problems by rainweather or sunshine.
Please klick the links S14, S15 and S16.
The pictures only in about because every item is in diff. size and design and not more than 1 time in stock.
Sets or single item available in small, med.or big size.
OUR'S OLD STYLE TEAKWOOD FURNITURE
For more item please order our Export Catalogue by Mail.
Export Catalogue for Teak and Rosewood Furniture available.
Fan / Umbrella Export Cataloge also available by Mail.

PRICE'S / Wholesale pricelist
please ask us for for the furniture price's and the shipping cost by email
OUR'S another EXPORT item, clothes in cotton, hemp and silk, fan & umberella and thai-handicrafts, please see below.
Thank you very much and please contact us again.
---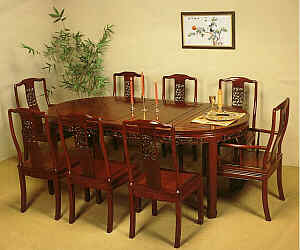 Deutsch:
Die von uns exportierten Möbel sind ausschliesslich aus massivem Teak- oder Rosenholz hergestellt.
Für diese verarbeiteten Edelhölzer gibt es WELTWEIT keinerlei Importbeschränkungen.
Abbildung rechts (siehe auch Preisbeispiel):
Komplette Esszimmer-Ausstattung aus Rosenholz mit geschnitzten Vogel- und Blumen-Motiven (S02)
Photo (see also price sample):
Rosewood Dining Room Set, carved birth / flower design (S02)

Bestell-Nr. S02 / Order No. S02
---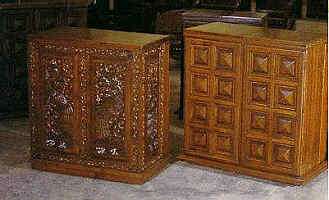 WAS IST TEAKHOLZ?
Teakholz ist eines der Edelhölzer, das sich auf Grund seiner nicht zu harten Beschaffenheit sehr gut für Schnitzereien eignet. Daher sind die thailändischen Möbel, in den verschiedensten Schnitzmotiven, meist in Teakholz gefertigt.
Besonders beliebt sind Motive wie Wild- oder Arbeits-Elefanten, Dorfmotive, Vögel, Blumen und Drachen. Alle Katalog-Artikel können in diesen Motiven hergestellt werden.
Abbildung rechts: Teakholz-Bar, geschlossen (S23)
Photo: Teakwood Bar, closed (S23)
---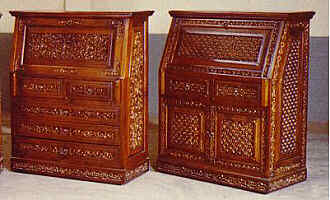 ROSENHOLZ
Rosenholz dagegen ist eines der härtesten Edelhölzer der Welt und die thailändischen Rosenholzmöbel gehören tatsächlich zum FEINSTEN, was weltweit an Möbeln gefertigt wird.
Alle Rosenholzmöbel können ungeschnitzt / glatt, leicht geschnitzt oder mit eingelegtem Meeres-Perlmut bestellt werden.
Rosenholz, wohl das teuerste Holz der Welt, dass für die Möbelherstellung verwendet wird, ist hier in Thailand noch immer recht preiswert. Trotz bester Verarbeitung und zu fast 100%-tiger Handarbeit.
Abbildung rechts: Sekretär, verschiedene Ausführungen. A/B/C (S21)
Photo: Writing desk, diff. designs and carved. A/B/C (S21)
Back to the top of the Sumalee Handicraft Homepage
---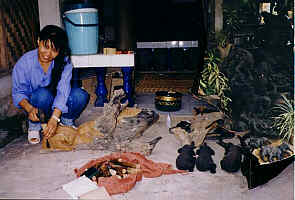 HOLZSCHNITZEREIN
Unsere HOLZSCHNITZEREIN, die bis auf einige Artikel aus Teak geschnitzt sind, sind aus Acarzien-Holz gefertigt. Aufgrund der Vielzahl dieser Artikel gibt es keine Export-Kataloge. Allerdings können wir Ihnen Fotos zu Verfügung stellen und wir stellen auch von Schnitzereien, nach Wunsch, Abbildungen her.
Photo: Wood Carving
---
Other Export Items: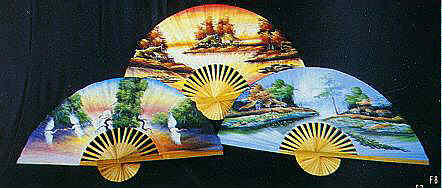 SUMALEE`S HANDICRAFT EXPORT WORLDWIDE
---
SEIDENFÄCHER UND SONNENSCHIRME
gibt es in den verschiedensten Farben, Größen und Motiven. Es stehen Export-Kataloge zur Verfügung.

---
BRONZE-ARTIKEL UND -FIGUREN
sind ebenfalls in unserem Export Sortiment. Angebote auf Anfrage.
---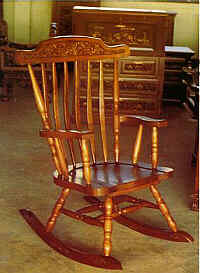 KATALOGE
Für die Zustellung der Export-Kataloge und -Preislisten ist erforderlich, daß sie uns Ihre Anschrift / Postcode mitteilen. Die Kataloge kosten per Stück (Schutzgebühr die Ihnen beim Einkauf angerechnet wird) :
Teakholzmöbelkatalog mit Preisliste. DM 20,-/ 10 US
Rosenholzmöbelkatalog mit Preisliste. DM 20,-/ 10 US
Hauptkatalog Seidenfächer und Sonnenschirme DM 20,-/ 10 US
Faltkatalog Seidenfächer und Sonnenschirme DM 10,-/ 5 US
Bitte den/die Beträge überweisen und uns eine Kopie per Fax oder E-Mail zusenden. Oder Ihrer Anforderung einen v. Scheck beilegen.
Abbildung rechts (siehe auch Preisbeispiel): Schaukelstuhl aus Teakholz (TC004)
Picture (see also price sample): Teakwood Rocking Chair (TC004)
---
UNSERE ANSCHRIFTEN: / OUR'S ADDRESS:
Sumalee Handicraft Center Chiangrai Nordthailand, 879 / 7-8 Phaholyothin Rd., Chiang Rai 57000, Thailand
Postanschrift: Postaddress: Sumalee Handicraft Center Chiangrai, 57000 Chiangrai, P.0.Box 130 Thailand.
Bank: Thai Farmers Bank Chiangrai Branch. Konto / Accoount-Name Sumalee. Handicraft.
Konto No./ Account no: 154-2-60052-3.
Verrechnungsscheck bitte auf diesen Namen ausfüllen.
Checks please of the above Name
Back to the top of the Sumalee Handicraft Homepage
---
---
Page created on October 7, 1997. / Seite erstellt am 7. Oktober 1997.
Page updated on October 3, 1999. / Seite aktualisiert am 3. Oktober 1999.