DAY 1 PAKSE - CHAMPASSAK - VAT PHOU
In the morning at 10.30 departure from Pakse for Champassak, heading south aboard a local long-tail riverboat and zigzagging through mild rapids and sand banks, arriving at Champassak in time for a riverside lunch, followed by a guided tour of the mysterious pre-Angkorian 10th century temple of Vat Phou, the boat's namesake. As dusk falls board the Vat Phou for a relaxing cruise down river, enjoying the tropical sunset on the deck, dinner is served on the boat, it docks for the night alongside a remote Laotian village.
DAY 2 4000 ISLANDS
Breakfast on board as we set sail for the village of Huei Thamo, only a few minutes walk away from the spectacular hidden forest temple of Oum Moung. Afterwards rejoin the boat for a cruise southwards and lunch on the deck, while we continue our leisurely sail further south to the wild paradise of the 4,000 islands. Arrival in the afternoon close to Khong Island (the birthplace of the President of the Peoples Republic of Laos) at Ban Dua Tae, and visit this Laotian village where the traditional way of life has not changed in centuries. Back on board for quiet dinner, under the stars, serenaded by the songs of the buffalo toads.
DAY 3 4000 ISLANDS - KHONE PHAPHENG - PAKSE
Breakfast on the deck, while cruising to the small village of Ban Veuthong where we will board a small long-tail boat to Khone Island. After visit, take a long-tail boat back to the main land for lunch amid the by-gone splendid of another age, colorful French colonial houses and an old customs post, alongside a stone quay. Take a minivan to amazingly scenic splendor of the Khong Pha Peng waterfall, close to the Cambodian border. An approx. 2 hours drive will bring you back to Pakse, where you will arrive late afternoon. End of the program.
---
More information or booking of this tour!
$$ Download the price list of all tours $$
Remarks:
Visa available at the Thai-Laotian border crossing of Chong Mek against a fee of US$ 30.-.In case you will arrive via Vientiane, then you will get the visa there at the airport or at the Friendship Bridge (if coming from Nong Khai, Thailand). Transfers and additional nights before and/or after the cruise can be booked with us.
Price includes:
Vat Phou river cruise and excursions as per above itinerary, accommodation for 2 nights on board of the Vat Phou, English speaking tour guide, all entrance fees, 2x breakfast, 3x lunch and 2x dinner, drinking water
Not included:
Visa, all drinks, meals not mentioned in the itinerary, tips and personal expenses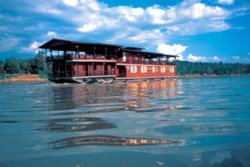 Photo: The Vat Phou boat sailing on the Mekong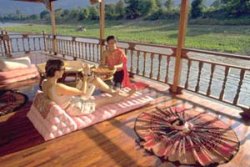 Photo: The comfortable Vat Phou boat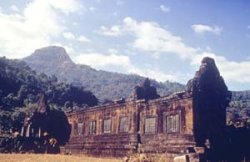 Photo: Angkor temple Vat Phou near Champasak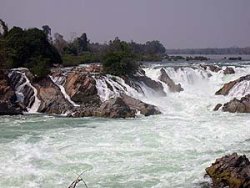 Photo: Khone Phapeng falls near the Cambodian border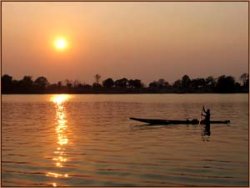 Photo: Sunset along the Mekong in Southern Laos