DAY 1 VIENTIANE
Upon arrival transfer to the hotel. In the afternoon take a tour in the Laotian capital and visit the most interesting sights, such as That Luang Stupa, Wat Sisaket and the central market.
DAY 2 VIENTIANE - TAD LO
Early morning transfer to the airport and take a flight to the southern city of Pakse. From there continue to the Bolowen Plateau. On the way stop at Tadfane waterfall and at villages of some minorities, such as the Katou and Kaluem. Beforo you reach Tad Lo have a visit to a coffee- and tea plantation. Arrive Tad Lo, surrounded by lush tropical vegetation. Opportunity to see a nearby minority village of the Nge
DAY 3 TAD LO - KHONG ISLAND
Travel on towards Pakse. Here board a long tail boat and travel for approx. 1,5 hours down the Mekong. On the way visit the Angkor temple of Vat Pou. This ancient stone palace is an architectural marvel. Continue on the road to Hat Sai Khone. With another boat you will cross the Mekong and reach Khong island, where you spend the night.
DAY 4 KHONG ISLAND - PAKSE
Continue by boat in southern direction to the 4000 river islands. In Don Kone switch to the car. On route you can see remains of the French's occupation, such as old locomotive and railway line. Enjoy a short walk through tropical vegetation until you reach the Liphi waterfall. Early afternoon you will arrive at the huge and spectacular Khone Phapheng falls, where the Mekong takes a deep just before the Cambodian border. Finally drive on the road for approx. two hours to Paskse. Overnight.
DAY 5 PAKSE - UBON RATCHATHANI
In the morning visit the local market and take a stroll through the province capital. Later travel to the border town of Chong Mek and cross in to Thailand. From here transfer to the city of Ubon Ratchathani, where you can continue your journey, for example by flight or night train to Bangkok.
---
More information or booking of this tour!
$$ Download the price list of all tours $$
Remarks:
Visa available on arrival at Vientiane airport or at the Friendship Bridge against a fee of US$ 30.-. This tour is also available v. v. with start in Ubon Ratchathani and end in Vientiane. Extra nights before the tour in Vientiane as well as after the tour in Ubon Ratchathani can be booked with us
Price includes:
Air-conditioned transportation during the tour, English speaking tour guide, all transfers and excursions as mentioned in the above itinerary, air ticket Vientiane to Pakse, all entrance fees, accommodation at middle- and upper middle class hotels, daily breakfast, lunch during tours
Not included:
Visa, all drinks, meals not mentioned in the itinerary, tips and personal expenses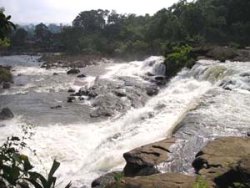 Photo: Tadlo waterfall at Bolawen Plateau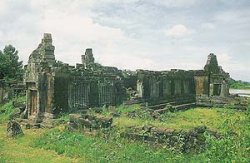 Photo: Angkor temple Vat Phou near Champasak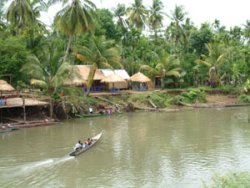 Photo: Village at Kong river island along the Mekong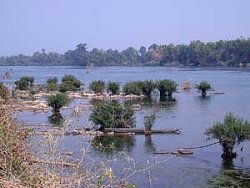 Photo: Scenery near the 4000 Mekong islands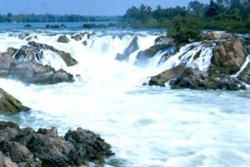 Photo: Khone Phapeng falls near the Cambodian border
Photo: Peaceful scenery along the Mekong