DAY 1 HOUAY XAI - PAK BENG
Early in the morning (08.00-08.30 proceed to Thai/Lao immigration by yourself. The representative of the boat company will wait for you at the Lao immigration. After border formalities are done, you will be transfered to the pier. The boat leaves at 09.00. Cruise down the Mekong. First stop at a village for lunch. Continue and visit one of the many villages of ethnic minorities, such as the Lu or Yao. Arrive Pak Beng before sunset and check in at the Luangsay Lodge, built in traditional Lao style of solid wood on the shores of the Mekong.
DAY 2 PAK BENG - LUANG PRABANG
Have breakfast on the terrace of the lodge overlooking the Mekong. If time allows, take a walk to the local market in Pakbeng, where people from the surrounding villages sell their goods. Board the boat for the second leg of the cruise. Picnic lunch on a river sand beach and short stop to discover a Hmong village. Continue and visit the Thum Ting caves, that are enshrining numerous Buddha images. Another brief stop follows at a village, where you can observe traditional process to obtain local ricewine. Arrive in Luang Prabang late afternoon and transfer yourself to your chosen hotel.
---
More information or booking of this tour!
$$ Download the price list of all tours $$
Remarks:
Visa available at the border crossing Chiang Khong/Houay Xai against a fee of US$ 30.- Cruise upriver from Luang Prabang to Houay Xai possible on Tuesday, Wednesday and Saturday.From 01/05-31/10 only on Wednesday and Saturday. No cruises in June. Transfer before the cruise from Chiang Mai, Chiang Rai or Chiang Saen to Chiang Khong/Houay Xai can be booked with us, as well as hotel accommodation in Chiang Mai, Chiang Rai or Chiang Saen before- and in Luang Prabang after the cruise.
Price includes:
2 days cruise and sightseeing on route as shown in the itinerary, accommodation at the Luangsay Lodge, English speaking cruise escort, all entrance fees, all meals during the tour, drinking water
Not included:
Visa, all drinks, meals not mentioned in the itinerary, tips and personal expenses, boat from Thai Immigration to Laotian immigration across the Mekong.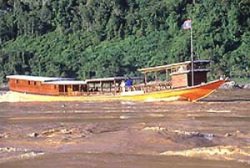 Photo: Luangsay boat on the Mekong River
Photo: Luangsay boat at Pak Beng
Photo: Luangsay Lodge at Pak Beng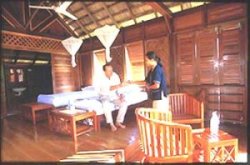 Photo: Luangsay Lodge at Pak Beng