Fax: +66 2 281 55 47

ask for Mr. Kurt Leypoldt, German with Thai-Wife and baby....
er spricht auch Deutsch...

E-Mail-Address: kurt@mozart.inet.co.th

for Guesthouse-Guests .... 1 E-Mail FREE per day!!!
---
OLAVI TOURS TRAVEL & INTERNET SERVICE
58, Khaosan Road, Banglampoo, Bangkok 10200, Thailand.Tel. 66-2 281-0803 Fax. 66-2 281-2026 E-mail: travel@olavi.com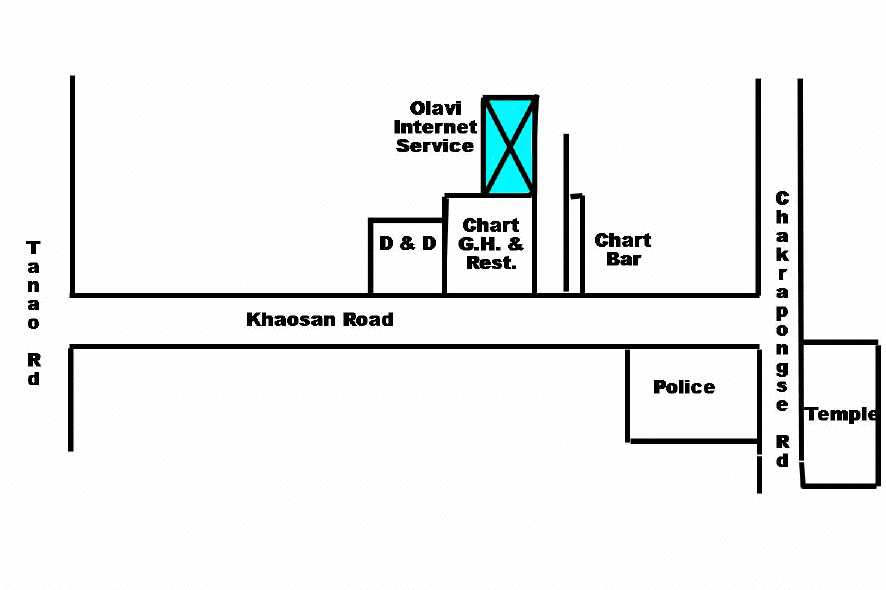 more eMail-addresses

internet@olavi.com
for info on internet service/cyber cafe
travellers@olavi.com
general mail box for travellers.
All received messages printed and kept on file for 2 months.
Opening hours

10am - 12pm

We can 'order in' food or drink for customers from the Chart Restaurant& bar.

Our prices
3B per minute (minimum 10 mins) for use of computer terminal for whateverpurpose.


Our equipment

We have a LAN network of 6 COMPAQ pentium 200 mmx, 32 mb RAM on a 56k connection.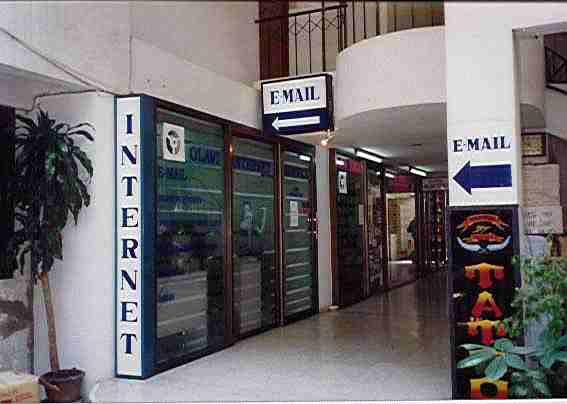 We have a scanner, colour printer and CD writer. Scan photos to send with email, print photos to plainpaper, enlarged or reduced. Download from digital cameras to CD. We have links to all the popular mail sites.
We can help you check POP accounts using whicheversystem you prefer. We have Telnet, ICQ, Powwow, Mirc, internet phone with video camera.
We alsohave a word processor, spreadsheet and database program.
Our Travel agency is in the next office, providing all types of domestic and international tickets. Wepride ourselves in offering fair and honest information with all travel enquiries, even if that means notselling you a ticket. We gain much more than we lose by developing this trust with our customers, who tend to stay with us.
We have an international fax and telephone service. We are also agents for TNT, providing 3 daydelivery of parcels and documents around the world.

---
AM Computer Plaza Bangkok
Ambassador Hotel, Sukhumvit Road, Soi 13, Bangkok
http://www.infonews.co.th./amplaza/
E-mail : fort@infonews.co.th
With our warmest welcome & techno friendly staff and a low cost internet access formula, is now waiting for you here at the Cyber Restaurant on the 3rd floor of Am Computer Plaza, Ambassador Hotel, Sukhumvit 13, Bangkok 10110, Thailand.
The service charge is 150 baht/hour and our minimum charge is 100baht/1-30mins. We have also the promotion for the customers. Please feel free to write us if you require more information.
Our telephone number is 254-0444 ext. 1575 .
It opens at 10.00-19.00 everyday.
---
Hello Internet Cafe
We are located at: 63-65 KhaoSan Rd., Banglampoo, Bangkok, 10200 Thailand. In the Middle of Khao San Rd.! Second floor of the HelloRestaraunt. Opposite D & D Inn. Tel. (662) 629-1280, Fax. (662) 629-1283. We have ten terminals anda 28.8 kbps connection for all computers (max. for Thailand). Prices Internet: 50 Baht for 15 min.,minimum. 10 Baht for 3 min., after minimum. Check Pop Account Online: 50 Baht for 15 min. minimum.Email Service: Can send and receive email. 20 Baht to send 1 kilobyte. 10 Baht to receive at our address.Computer Time Rental: 120 Baht for one hour. Telnet: Yes. Also: IRC, Internet Phone, FTP and Net 2Phone connection (connects from internet to regular telephone). Open 10 AM - 10 PM. Food: Italian,continental, Thai, snacks and drinks. Our Home Page: http://www.hellocafe.com
---
C y b e r C a f e Bangkok
Ploenchit Centre - Sukhumvit-Road
http://www.chomanan.co.th/cybercafe/
E-mail : cybercafe@chomanan.co.th
Tel : (662)973-3146-50 Fax : (662)973-4246
Cyber Cafe' is a Business Centre where Internet enthusiasts can relaxwith a drink and surf the Internet. It is one of the most absolute conceptunder the idea of Chomanan Group.
Cyber Cafe' is designed to be as your home atmosphere. You can sit and relax in the most friendly atmosphere, in your privacy corner while surfing the internet.
Cyber Cafe' provides the hardware and software to run the internet system. The PC Pentium150 and 17" monitor are chosen among the set of powerful medium. Scanner and color printer also available for your most convenience. Relaxing yourself with snack, Hot and Cold drinks.
Welcome you to touch and fill your dream of internet on the second floor of Ploenchit Centre, Thailand Our door is open to everyone. You don't have to worry about bookings, just drop in and try our tasty cappucino.
Open to everyone from ten o'clock in the morning till nine in the evening.
Our trained staff help you explore the world of electronic communication.
Cyber Cafe' is located on the 2nd floor, Ploenchit Center which is on Sukhumvit Road.
---
CYBERIA
Yes, this from LONDON, now also in Thailand ... in Bangkok
654/8 Sukhumvit Rd, cnr Soi 24(259 3356-7, fax 259 3358, e-mail cyberia@cyberia.co.th, Sun-Wed 10.30am-11pm, Thur-Sat10.30am-midnight. Startling interior to Bangkok's most professional internet cafe, with copper walls, aprojection wall, a rubber bar, liquid-filled screens, and oval computer pods suspended from a ceiling rail.The space is huge, though the 15 terminals downstairs and 15 in the upstairs training room could do withmore room and higher chairs. They serve beer (B70-B90), wine (B90-B100), sandwiches, pizzas, salads(B70-B100), and fresh Illy coffee. Conference room, regular events, free internet accounts Has broadappeal, yet a fashionable cachet; expect some mellow dance music evenings. Snazzy Cyberiamerchandise on sale. Web site at: http://www.cyberia.co.th

---
---
The Escape Bar + Restaurant